Holiday 2009
The Carlisle Holiday 2009 fashion forecast: We have doubled up on GLAMOUR, GONE DEEP on CHIC, SPARKLED PLENTY and TIED-UP the TRENDS into PERFECT HOLIDAY LOOKS ... see the Carlisle Collection for the COLORS of HOLIDAY.
Contemporary, Easy Elegance
The Carlisle Collection - This fashion collection is crafted for the woman who cares deeply about style and quality. It combines the best of enduring and modern designs from Europe and America. (See Details...)

---

The Per Se Collection - Each piece is pure fashion. edgy, ultramodern, easy to wear and reflecting the hottest trends. (See Details...)

---

Whether you need a gala evening ensemble, a business suit or a casual outfit for lunch with the girls, your personal Carlisle and Per Se wardrobe consultant/stylist, Barbara E. Rudd, will make sure that you always present a fashionable, chic image that will draw admiring glances from everyone you meet. (See Details...)
Sign up to receive a free newsletter and information about exclusive offers


---
Barbara Elizabeth Rudd, Hautes-Fashions.com founder, is your personal fashion consultant and stylist for the Carlisle and Per Se Holiday 2009 Trunk Show - daily from Friday, November 6th through Wednesday, November 11th at Barbara's Boutique.

There is no pressure to buy. In fact, we encourage you to view this like any other shopping trip. You can always come in and just take a look to see what Carlisle has to offer this season. View the Carlisle Fall Trunk Show at a convenient, comfortable in-home boutique ... save time ... no parking worries ... you select the day and time.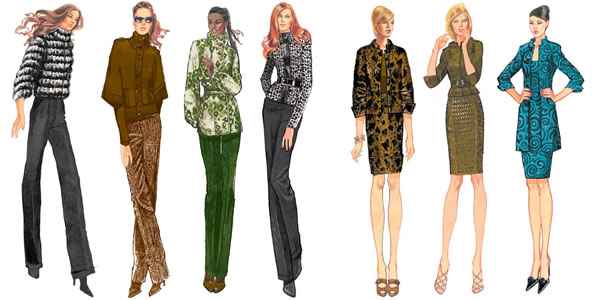 The Carlisle Collection is a line of women's designer clothing from NYC. It is known for exquisite fabrics, impeccable tailoring, elegant, yet contemporary designs and attention to detail. The collection is influenced by Chanel, Dolce & Gabbana, Ralph Lauren, Escada, Prada, Roberto Cavalli, Oscar de la Renta ... but at more affordable prices. In fact, many of the Carlisle fabrics come from the same fabric mills as the top fashion designers.
Carlisle has something for everyone. Sizes range from 0-18 and XS to XXL. However, you will not find Carlisle and Per Se in retail stores because the Collections are sold only by Carlisle consultants in a boutique-like setting in their homes.
Schedule your appointment and stop by Barbara's Boutique